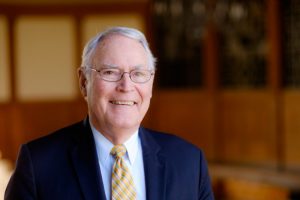 James T. "Jim" Williams ('62, JD '66), a former chair of the Wake Forest Board of Trustees, died Sept. 3, 2018, in Greensboro, N.C. Williams received Wake Forest's Distinguished Alumni Award in 2014 and the Medallion of Merit, the University's highest award for service, in 2016. He was first elected to the Board of Trustees in 2002 and served as chair from 2009 to 2012. He was named a Life Trustee in 2013.
The entries posted in a guestbook for Williams are preserved here as a permanent memoriam.
Please note: This guestbook is no longer open for new comments.
Guestbook Entries:
Andy Chan
Jim was a great example to me as a successful gentleman and I recognized as a Christian.
W. Carey Hedgpeth, HEDGE.
W. CAREY HEDGPETH
So many will forever cherish Jim for a host of professional accomplishments and kindnesses, both at Brooks Pierce and Wake Forest, and sterling personal qualities. My own experience of "Butch" was as the most intellectually curious elder-statesperson I have ever known. Whether pushing me on one or another point about the millennial generation (whose young-lawyer representatives he did so much to mentor), relating a fascinating fact from his latest travels (Cuba! Tuscany! et. al.), or parsing the latest General Assembly doings out of Raleigh, Jim's expansive interests and unfettered love of learning shone through so very brightly. No news out of Wake Forest escaped his thoughtful notice, and a word of gentle counsel from Jim was a treasure always followed. I will miss him with all my heart.
Rogan Kersh
What a fine gentleman! Such a loss—
Polly Davis
Barbara, Roddy and I are so sorry to hear about your loss. Jim was a great man who did so much for Wake Forest University as well as the community. We regret that we will be unable to make it for the memorial service on Friday. Please understand our prayers are with you during this difficult time.
Vic and Roddy Flow
Jim Williams was a true giant – and not just literally. He had so many admirable traits, and one that really resonated with me was how he treated everyone the same – with genuine respect and interest in her/him. He lived life to the fullest and those of us fortunate enough to have known him are the true beneficiaries. He lived a life that was Constant and True and embodied Pro Humanitate. To his loving and devoted family – wife Barbara, daughters and grandchildren, and others, I offer my sincere and heartfelt condolences.
Minta McNally
Jim Williams embodied all that was good about a Wake Forest graduate. As chairman of the trustees, he led with strength, a generous spirit and always at heart the best interest of the University and her students. He was my friend, and we loved to talk about travel, Africa, photography and positive news. I wish peace and comfort for Barbara and the family. The loss is profound.
"What you leave behind is not what is engraved in stone monuments, but what is woven into the lives of others." I keep this quote from Pericles on my desk. I will look at it from now on remembering my friend Jim as an exemplar of that wisdom.
Maria Henson
I only knew Mr. Williams through Wake events, but he was always a gentleman and his love for Wake Forest was evident in everything he did. My deepest condolences to his family and friends.
Betsy Chapman